Make Your Website Work for YOU!
Learn more about RAGE Software's affiliate program. You can earn 20% of every sale just by linking to RAGE Software's website from your website.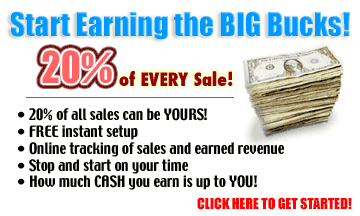 Join our affiliate program now and start earning fast cash!
---
What is the affiliate program and how does it work?
RAGE Software's affiliate program lets you recommend RAGE Software's products and earn 20% of all sales. All you have to do is link to RAGE Software's website using a special URL that you receive after signing up and any visitors that results in a purchase of our products earns you 20% of that sale. RAGE software tracks everything for you and handles all support queries, registration and payment collections. All you have to do is point customers to our website.
You can track all your sales online through the fully featured affiliate system so you know that all transactions are handled fairly and your support is accounted for.
How much can I earn?
There is no limit to the amount of money you can earn. You can create an entire website with screen shots, reviews, tutorials, anything you like which can help you sell more copies. Focusing on the product benefits and how it can help potential customers is a great way to get people interested. Be creative with your approach and you can get amazing results.
Remember: You get 20% of every sale!
How do I get paid?
You will get a monthly check around the middle of the next month which includes all your commission from the previous month. Our affiliate program is run through eSellerate so you can be assured that all your sales are accounted for and you are paid on time, all the time.
What can I not do?
Mislead customers by providing false information or not being clear in what they are getting
Operate, link to, or be affiliated with a website that contains or promotes any of the following content: libelous, defamatory, obscene, pornographic, abusive, violent, bigoted, hate-oriented, illegal, cracking, hacking or warez, or any illegal good or service
Spam, send unsolicited email or use discriminatory advertising
Engage in cybersquatting or typosquatting
Break any trademark or copyright laws
How do I get started?
Signing up to our affiliate program is quick and easy. Just follow this link to be taken to the secure affiliate sign up page and start earning cash quickly.