July 28th, 2014
With the recent announcement of OS X 10.10 – Yosemite – many iWeb users are wondering whether or not iWeb will still work on the latest release. Apple has opened up the Yosemite beta to the public, which means that many every day users will be downloading the new operating system a few months ahead of schedule.
So the bottom line is does iWeb work with Yosemite? We have tested iWeb on systems running Yosemite and iWeb does appear to still work with some limitations. Users may come across a few bugs here and there. For example, we came across this small bug when adding a blog to our site. The 'Add Entry' and 'Delete Entry' buttons that appear when on the blog page now appear when on any page on the website. Other issues we encountered were missing images for some widgets and incompatible widgets (such as Google maps & the MobileMe gallery).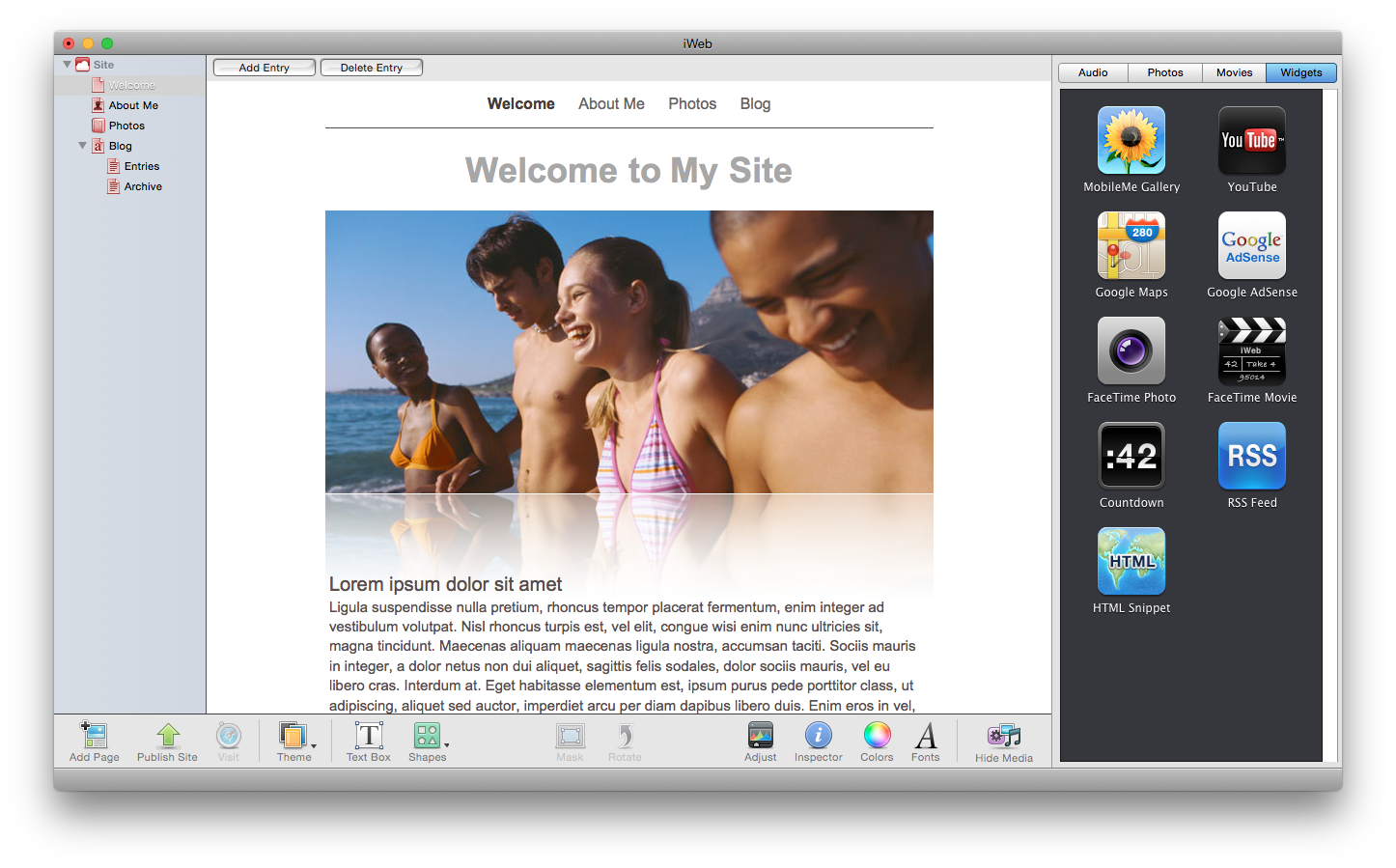 Though most iWeb features do still work with Yosemite, there are a few things that iWeb users should keep in mind. iWeb has not seen a major update since 2009. One day, iWeb 09 will stop working on a future update of OS X, just as iWeb 08 no longer works on OS X 10.9 or later. In addition, no future updates to iWeb will be released.
EverWeb, our iWeb replacement is compatible with OS X 10.6 through OS X 10.10, Yosemite. In addition, we have continued to update it with new features such as drop down menus, mobile websites, mouse over effects, master pages and much more. Our goal with EverWeb is to provide a modern replacement for Apple's discontinued iWeb. Plus, we've made it really easy to transition your iWeb site to an EverWeb site.
EverWeb is currently being used by thousands of ex-iWeb users and they are very happy with it. Check out what EverWeb customers have to say about EverWeb. Still not convinced? Read the third party EverWeb reviews.
If you are thinking about switching from iWeb to another website builder, we encourage you to give EverWeb a try. You can download it free of charge. You can try EverWeb for an unlimited period of time. We guarantee that you will love it (so much that we have a 60 day money back guarantee when you decide to place your order).
Remember, EverWeb also comes with our free SEO for EverWeb video course to help you get more visitors to your website.
And of course, as always, if you have any questions about EverWeb join the thousands of EverWeb users on the EverWeb discussion forums.