January 24th, 2017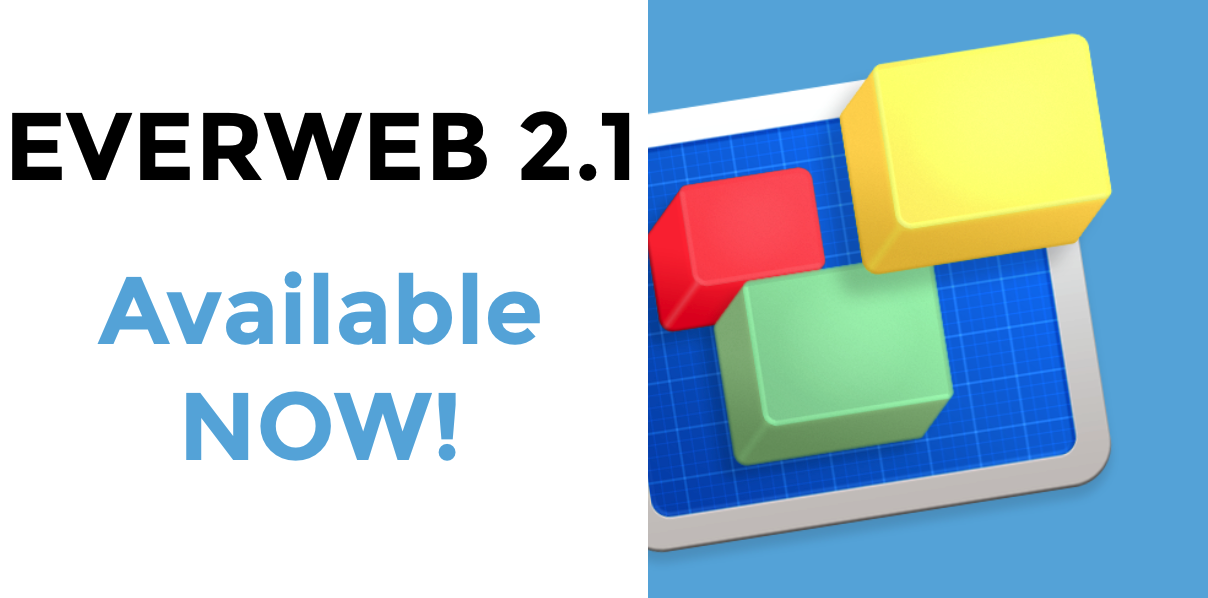 We are happy to announce the immediate availability of EverWeb version 2.1. The new release focuses on blogging, the Contact Form Advanced widget, UI and workflow enhancements as well as maintenance and stability fixes.
To update, please see the section 'How to Update to EverWeb 2.1' below.
User Interface
[NEW] Holding down Command+Option keys while dragging will not change the selection so you can easily move selected objects that are covered by other objects
[NEW] Holding down Shift+Command keys while dragging or resizing an object will move all objects underneath that object down in order to preserve the page layout
[NEW] Function arrow keys work in the EverWeb Design Canvas
[NEW] Rename option added to the sub menu when you right click on the Project name in the Web Page List
Contact Form Advanced Widget
[NEW] New options to enter SMTP details to help improve reliability of receiving emails
[NEW] Control options can now be reordered
[NEW] Form Options can now be deleted
Reply to email set correctly (especially when using the SMTP option)
Form controls are not overly large when you have a wide form
Font styling isn't applied to some form fields anymore
Blogging
[NEW] Option for linking to the full archive is available in the Blog Main page widget
Fixes a problem with blogs being added to sub directories producing 404 errors
Fixed a bug with Google Fonts and Blog Post widget not including the font for navigation links at the bottom of the posts
Fixed a bug with Google Fonts and Blog Post widget not including the font for the date style
Blog posts starting with an image no longer export with extra line breaks on the archive and main blog page
Blog post images no longer get exported twice
Fixed a memory leak after publishing when using blogs
Fixed a CSS error in blog post widget for default font color value
Fixed blog CSS font size export issues
Inserting an external link will not add the external link to the end of the post when trying to delete it
Fixed issue with Facebook comments not working properly
Warning message when a WordPress image file can't be downloaded when importing WordPress blog posts
Fixed an issue with the Date Format in the Blog RSS Feed
Miscellaneous
EverWeb removes all double quotes from images dropped on to the Assets List
Images are opened with the correct DPI so dropping retina images works properly again
Fixed some error checking when writing out web page files
Setting height or width from the Inspector for multiple objects will not update both properties at the same time
Using the selection rectangle to select objects (clicking and dragging to select objects) loads them properly in the Inspector
Making changes in the Inspector when multiple objects are selected will not disable the Inspector after one change
EverWeb recognizes .ico files as images again
Fixed RSS Feeds to make sure they are always in the correct format
Fixed text alignment issues with using line height and paragraph spacing options
Lots of improvements to the Widget API's
Fixed an issue where fixed position objects didn't get exported correctly if a top margin was specified
How To Update To EverWeb version 2.1
You can easily update to EverWeb version 2.1 by
Launching EverWeb and going to the EverWeb menu at the top of the screen and selecting 'Check for Update' or by
Downloading EverWeb from the EverWeb website.
Remember, you won't lose any previous data when updating since your website project files are stored elsewhere on your computer.
EverWeb version 2.1 is free for EverWeb + Hosting users and EverWeb Standalone users who are within their 1 year of free upgrades and support period.
You can easily check your EverWeb Standalone free upgrade period from EverWeb's Preferences window or your client area.
If you have passed your one year of free EverWeb upgrades, you can purchase 1 more year of upgrades and support from your client area.
You can easily re-download earlier versions of EverWeb from your client area if you are not ready to purchase an additional year of upgrades and support.
Login to your client area and go to the 'Manage Product' page. On the left of this page, select 'Downloads' and choose the version of Everweb that you need, either the OS X 10.6 version,or OS X 10.7 and later, version.
More Information About EverWeb version 2.1
If you need more information about EverWeb version 2.1
The updated EverWeb website which has up to the moment information in it's new blogging section
New EverWeb videos on YouTube
The updated EverWeb User Manual under EverWeb's Help menu
The EverWeb Discussion Forum
If you can't find what you need, or have any other questions, comments or feedback please let us know. We're happy to help.
EverWeb on Social Media
You can also find EverWeb on the following social media platforms:
Twitter handle @ragesw