April 7th, 2017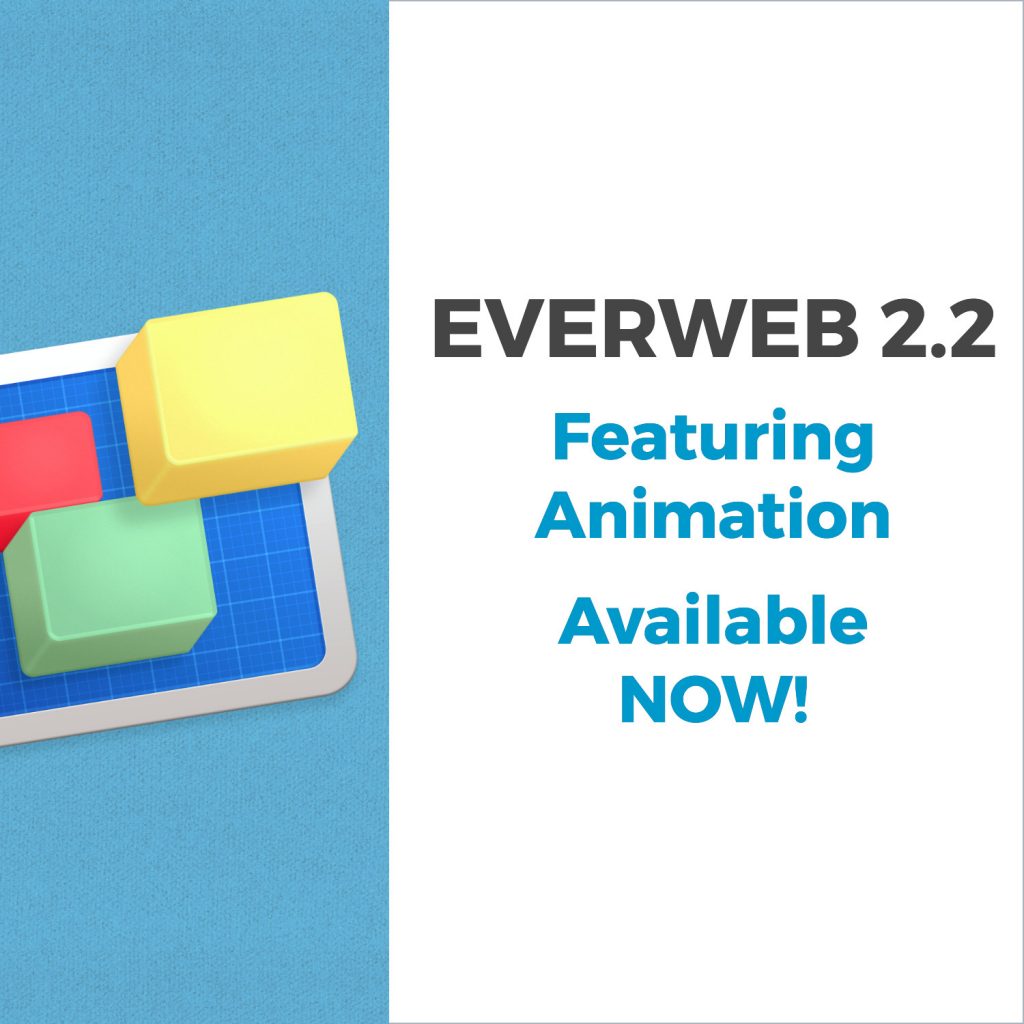 We're thrilled to announce that EverWeb version 2.2 is now available to download. The new release features a new animation framework with 16 different animation effects can be used in your website!
There is also a new 'distance between objects' feature, updated Audio and Image Slider widgets and much more as well as the usual maintenance and stability fixes. See below for the full list of what's new in EverWeb version 2.2.
EverWeb version 2.2 Includes…
[NEW] Animation Framework featuring 16 different animation effects.
[NEW] Distance between objects indicator lets you see how far an object is under the mouse cursor from the selected object if you hold the Option key down
[NEW] Image Slider widget now includes 'Dark navigation arrows' and centered thumbnails options
[NEW] Updated Audio widget with looping, play audio on page load, mute and default sound level controls
[IMPROVED] EverWeb works much better with large projects and uses much less memory
[FIX] Copy and pasting styled text from Chrome into EverWeb
[FIX] Blank paragraphs not retaining their font styling
[FIX] Minor fixes to the blog archive widget
[FIX] Delete key operation fixes
[FIX] Projects resize and refresh properly between retina and non-retina displays
[FIX] The least number of posts that can be displayed on blog main is now set to 1
[FIX] When transferring a Project with a blog to another computer, the image links are maintained
[FIX] Fixed Blog post image with spaces in its name not being exported properly
[FIX] Fixed a memory leak on macOS Sierra that would cause EverWeb to slow down after using it for a while and publishing your website
[FIX] Fixed Contact Form Advanced to use correct form address
[FIX] Images for regular, color filled rectangles are no longer generated on publish, making publishing faster.
[FIX] Header/Footer Code fields would replace a double dash. OS X Automatic text changes are no longer applied in these fields
[FIX] Fixed error message when adding the blank template and EverWeb is in the Downloads folder instead of the Applications folder
How To Update To EverWeb version 2.2
You can easily update to EverWeb version 2.2 by
Launching EverWeb then going to the EverWeb menu at the top of the screen and selecting 'Check for Update' or by
Downloading EverWeb from the EverWeb website.
Remember, you won't lose any previous data when updating since your website project files are stored elsewhere on your computer.
EverWeb version 2.2 is free for EverWeb + Hosting users and EverWeb Standalone users who are within their 1 year of free upgrades and support period.
You can easily check your EverWeb Standalone free upgrade period from EverWeb's Preferences window or your client area.
If you have passed your one year of free EverWeb upgrades, you can purchase 1 more year of upgrades and support from your client area.
You can easily re-download earlier versions of EverWeb from your client area if you are not ready to purchase an additional year of upgrades and support.
Login to your client area and go to the 'Manage Product' page. On the left of this page, select 'Downloads' and choose the version of Everweb that you need, either the OS X 10.6 version,or OS X 10.7 and later, version.
More Information About EverWeb version 2.2
If you need more information about EverWeb version 2.2
The updated EverWeb website which has up to the moment information in it's new blogging section
New EverWeb videos on YouTube
The updated EverWeb User Manual under EverWeb's Help menu
The EverWeb Discussion Forum
If you can't find what you need, or have any other questions, comments or feedback please let us know. We're happy to help.
EverWeb on Social Media
You can also find EverWeb on the following social media platforms:
Twitter handle @ragesw