April 25th, 2017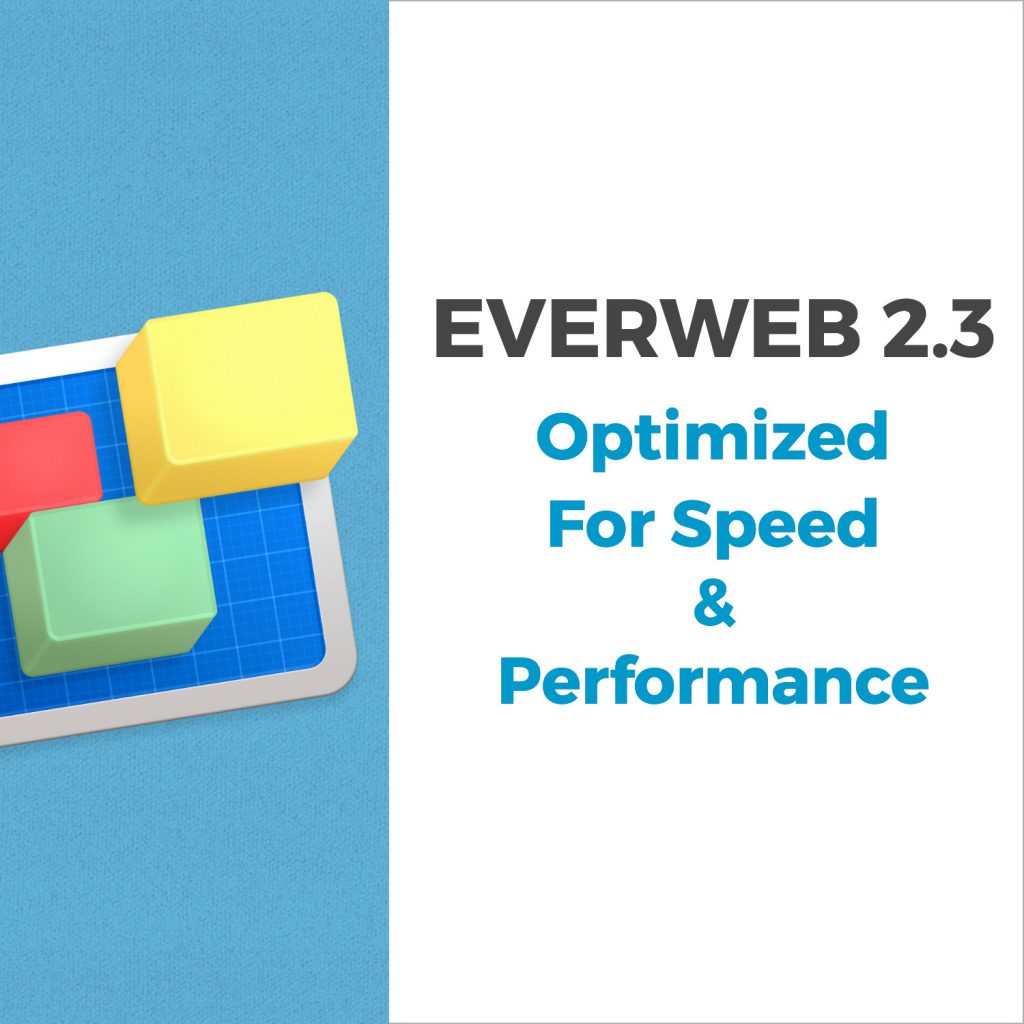 We are pleased to announce the immediate availability of EverWeb 2.3. The new release includes some internal optimizations to EverWeb's generated HTML and CSS code. This means your websites will load faster for your visitors, will upload faster and, in general, operate much more efficiently.
We have also included an important fix for a 'Dropped Connection' error when uploading websites to FTP or to your EverWeb account.
With EverWeb 2.3 you should see speed improvements in your websites from these optimizations.
EverWeb version 2.3 Includes…
A variety of code optimizations implemented to make websites load and publish faster.
Fix for using mouse over and mouse down effects for a regular rectangle shape which now works properly when returning to its original state.
Fixes an issue so that uploading to FTP or EverWeb account no longer produce a 'Dropped Connection' error.
How To Update To EverWeb version 2.3
You can easily update to EverWeb version 2.3 by
Launching EverWeb then going to the EverWeb menu at the top of the screen and selecting 'Check for Update' or by
Downloading EverWeb from the EverWeb website.
Remember, you won't lose any previous data when updating since your website project files are stored elsewhere on your computer.
EverWeb version 2.3 is free for EverWeb + Hosting users and EverWeb Standalone users who are within their 1 year of free upgrades and support period.
You can easily check your EverWeb Standalone free upgrade period from EverWeb's Preferences window or your client area.
If you have passed your one year of free EverWeb upgrades, you can purchase 1 more year of upgrades and support from your client area.
You can easily re-download earlier versions of EverWeb from your client area if you are not ready to purchase an additional year of upgrades and support.
Login to your client area and go to the 'Manage Product' page. On the left of this page, select 'Downloads' and choose the version of Everweb that you need, either the OS X 10.6 version,or OS X 10.7 and later, version.
More Information About EverWeb version 2.3
If you need more information about EverWeb version 2.3
The updated EverWeb website which has up to the moment information in it's new blogging section
New EverWeb videos on YouTube
The updated EverWeb User Manual under EverWeb's Help menu
The EverWeb Discussion Forum
If you can't find what you need, or have any other questions, comments or feedback please let us know. We're happy to help.
EverWeb on Social Media
You can also find EverWeb on the following social media platforms:
Twitter handle @ragesw