November 22nd, 2018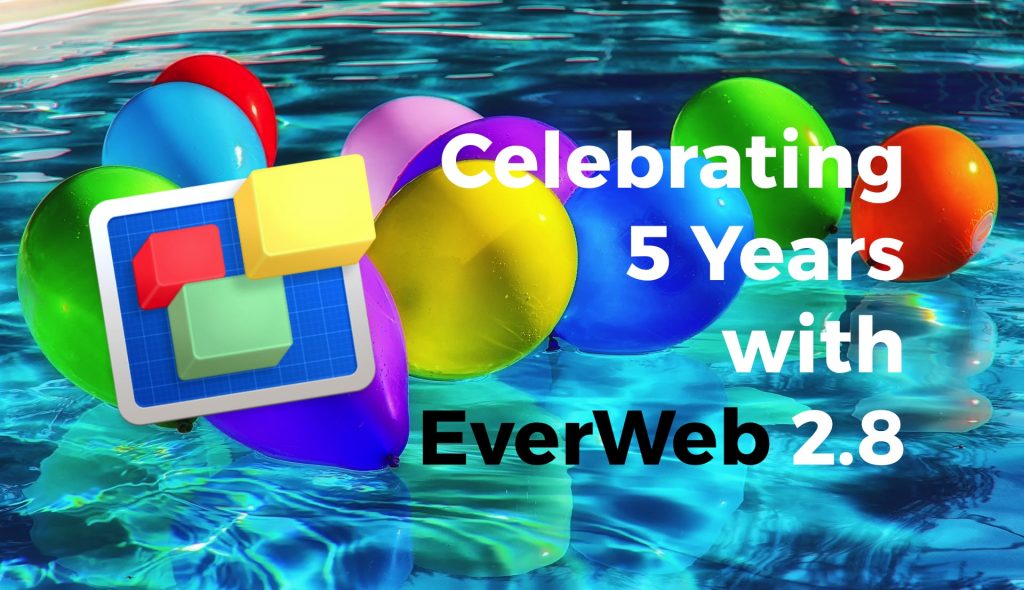 EverWeb's just celebrated its 5th anniversary with the introduction of the NEW EverWeb version 2.8!  From its beginnings back in 2013, as the spiritual successor to Apple's iWeb Mac website building product, EverWeb has grown amazingly over the last five years. Much of what we do is driven by the EverWeb community to whom we give a big 'Thank You' for the continued support, comments and suggestions that helps focus us on creating a bigger and better EverWeb year after year.
Over the last twelve months we've added an extensive range of new features to EverWeb such as a stock image library of over half a million royalty free images, a new responsive capable Navigation Menu widget, Scroll Position that lets you create page anchors you can hyperlink to and super fast publishing. We also added twenty new theme templates plus lots of feature additions to EverWeb's in built widgets.
Introducing Responsive Design with EverWeb 2.8
Responsive Web Design is the headline feature of EverWeb 2.8. Adding responsive capabilities to EverWeb has been our most popular feature request and we've worked hard to integrate it into EverWeb without changing how EverWeb works. It has been a great challenge but the results, we believe, make EverWeb possibly the easiest way to create a fully customizable responsive website just with drag and drop.
EverWeb's responsive design capabilities allow you to create scalable web pages using the new Responsive Page Layout. Responsive design means that you do not have to create separate website pages for desktop/tablets and mobile devices. EverWeb 2.8 lets you choose which way you want to build your website: the 'traditional' way or the 'responsive' way. Each has advantages and disadvantages which we will look at in more detail in future blogs.
From a web design process, if you are already familiar with EverWeb and are interested in building responsive websites, take a look at the EverWeb Video Training Library which explains the basics of responsive design in EverWeb to get you up and running quickly. Furthermore, our EverWeb YouTube channel also has lots of videos about building responsive websites, so sign up so that you don't miss out on what's new. There is also plenty of information on Responsive web design in EverWeb in our updated EverWeb User Manual. You can access the manual and the new chapter specifically on Responsive Web Design in EverWeb from the Help-> EverWeb User Manual menu option.
… and Many More Great Features!
In addition to Responsive Web Design, EverWeb 2.8 includes lots of other great new and updated features, for example, if you use third party widgets, our new Widget Organizer is a great way to categorise them just how you want.
EverWeb's Responsive design feature has also had a great spin off for many of our existing in-built widgets. For example, the PayPal Widget adds  product image and text description features as well as weight options. Other widgets have had full width capability added to them such as the Contact Form Advanced, Video and Audio widgets. The Navigation Menu widget adds the ability to add and hyperlink a logo and a Stick to Top of Page feature to pin the responsive menu to the top of the page. Last but not least, the Metrics Inspector also had a new feature add with a new Margin option so you can add left and right margins to full width objects.
New Theme Templates have also been added for both fixed width and the new responsive page layouts. The Theme Template Chooser itself also sports a new filter menu so you can now view All Theme Templates or only Fixed Width, Responsive or 'New' Theme Templates.
We're delighted to bring over 50+ new and updated features to EverWeb and a whole new world of creativity with our all new Responsive website design features.
We are always keen to have your feedback on EverWeb and what you would like to see added, improved or changed in the the product. Please let us know in the Coments section below!
EverWeb on Social Media
You can also find EverWeb on the following social media platforms:
Twitter handle @ragesw