May 6th, 2022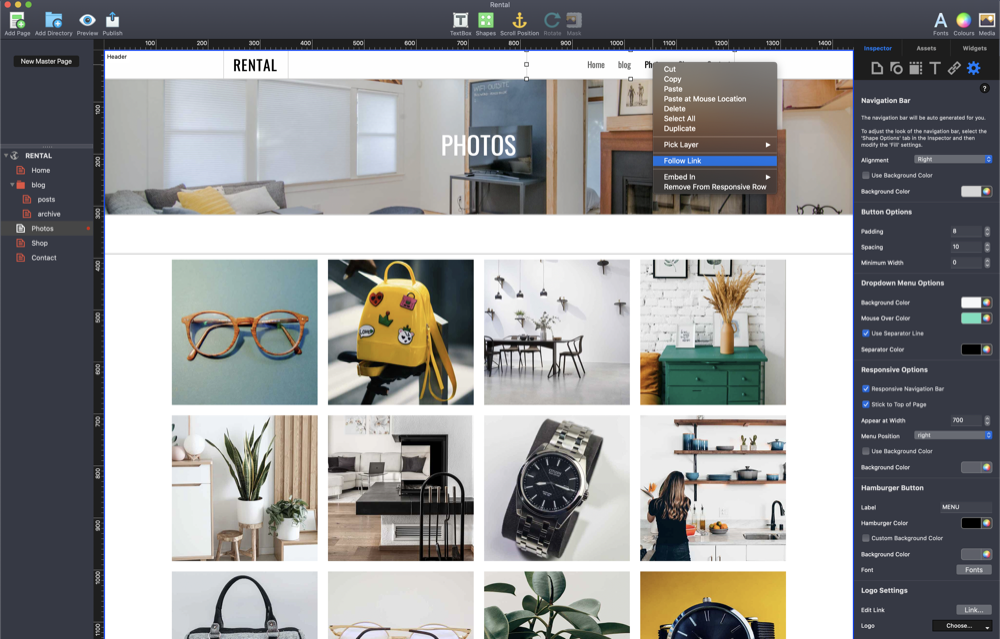 Although EverWeb 3.7.1 is primarily a maintenance and stability release, we've added new features to help you follow the links that you have added to your site and to make editing your links easier. There's also improved social media sharing and improvements to the Fill: Slideshow feature. A full list of what's new, improved and fixed in EverWeb 3.7.1 is below.
Which Version of EverWeb is For You?
EverWeb is available in the following versions:
If you are running an Intel Mac running OS X 10.10, macOS Yosemite, El Capitan, Sierra, High Sierra, Mojave, Catalina, Big Sur or Monterey EverWeb version 3.7.1 is available for you.
If you are running an Apple Silicon Mac running macOS Monterey or Big Sur, EverWeb version 3.7.1 is available for you as a Universal Binary. EverWeb will run natively without the need to use Rosetta 2.
If you are running OS X 10.7 – 10.9 (Lion, Mountain Lion, Mavericks) EverWeb version 2.9.1 is available for you.
If you are running OS X 10.6 EverWeb version 2.5.2 is available for you.
When updating to the latest version of EverWeb, the update process will automatically download the correct version of EverWeb for your operating system.
EverWeb 3.7.1 Includes…
[NEW] Blog posts will use your Post Image as the image that appears when sharing to Twitter, Facebook, LinkedIn and all other social media platforms.
[NEW] The Blog Post Title will be used when sharing each post on Social Media.
[NEW] Secondary (Right) click has an "Edit Link" option.
[NEW] Secondary (Right) click-> Follow Link works for shapes with a link and navigation bar.
[NEW] Follow link option works for links set to "next" and "previous".
[NEW] Template Settings Window will now find and copy widgets to the project file (holding down option and going to the File menu->Template Settings).
[NEW] Opening a project that has widgets in it will ask to install them.
[IMPROVED] When you drag an image over shapes set to "Image Fill" or "Slide Show" you will see an indicator that you can drop the images in there.
[IMPROVED] Slide Show fill objects accept image files being dropped on it. They will be added to the Slide Show.
[IMPROVED] You can now click the pagination button ellipses at the bottom of the Slide show object to switch between slides.
[IMPROVED] The Section labels that appear when dragging objects around will disappear after 2 seconds automatically and will show up less frequently.
[IMPROVED] Shape Options-> Fill-> Parallax Scrolling option has been merged in to the Fill section.
[IMPROVED] The Contact Form widget's Widget Settings now includes the label 'Simple Contact Form' at the top of the settings.
[FIX] Fixed a bug with right/center aligned text in a text object "jumping" when trying to edit it.
[FIX] Fixed shadow code on European OS.
[FIX] You can no longer link a Navigation Menubar object.
[FIX] The Fill Slide Show left arrow button works properly when clicked upon.
[FIX] Fixed a potential crash with the RSS Feed Widget.
[FIX] Fixed a scrollbar issue in Inspector.
[FIX] The Contact Form widget's default height has been increased.
[FIX] OG tags now work properly for blog posts.
How To Update To EverWeb 3.7.1
You can easily update EverWeb by either:
Launching EverWeb then going to the EverWeb menu at the top of the screen and selecting 'Check for Update' or by
Downloading EverWeb from the EverWeb website.
After downloading EverWeb, double click on the EVERWEB.DMG file. A window will open. Drag the EverWeb icon on to the Applications folder icon. Once the file has been copied, you can close the installation window, delete the .DMG file and eject the EverWeb disk on the desktop by dragging it to the Trashcan.
Remember, you won't lose any previous data when updating as your website project files are stored elsewhere on your computer.
The update is free for EverWeb + Hosting users and EverWeb Standalone users who are within their 1 year of free upgrades and support period.
You can easily check your EverWeb Standalone free update period from EverWeb's Preferences window or from your client area.
If you have passed your one year of free EverWeb updates, you can purchase 1 more year of upgrades and support from your client area.
You can easily re-download earlier versions of EverWeb from your client area if you are not ready to purchase an additional year of updates and support.
Login to your client area and go to the 'Manage Product' page. On the left of this page, select 'Downloads' and choose the version of EverWeb that you need.
More Information About EverWeb
For more information about the new version of EverWeb, please check out the following resources:
The EverWeb website which has up to the moment information in it's blogging section
New EverWeb videos on YouTube
The EverWeb User Manual in EverWeb's Help-> User Manual menu
The EverWeb Discussion Forum
If you can't find what you need, or have any other questions, comments or feedback please let us know. We're happy to help.
EverWeb on Social Media
You can also find EverWeb on the following social media platforms: