December 19th, 2022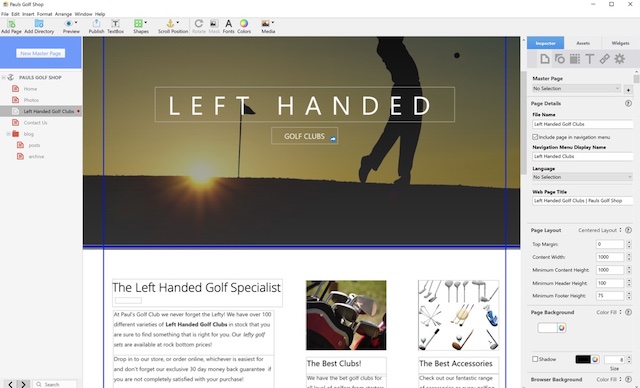 We are thrilled to announce the immediate availability of EverWeb for Windows. All of the website building features of EverWeb for macOS are now available to enjoy on Microsoft's Windows operating system!
EverWeb is the leading website builder that requires no coding – just use drag and drop to build the website you've always wanted! EverWeb comes with all of the features you would expect of a modern website builder: Responsive and fixed width website design styles, full drag and drop capability, a complete blogging environment, one click publishing, advanced shopping cart features using payment providers such as PayPal and Stripe and much much more!
Downloading and Installing EverWeb for Windows
To run EverWeb on Microsoft Windows you will need EverWeb for Windows version 3.9.1 or later. If you have not already purchased EverWeb you can download the app from our website and try it for free.
If you have purchased EverWeb for macOS and want to use it on Microsoft Window, check out the 'If you are Already Using EverWeb?' section below.
Which EverWeb Version Is For You?
Choose the version of EverWeb that best suits your requirements…
EverWeb + Hosting: If you purchase, or are already have, an EverWeb + Hosting plan you get the benefit of being able to use both EverWeb for Windows and EverWeb for macOS at no extra cost.
EverWeb Standalone: If you want to use your own hosting provider, choose EverWeb Standalone, either for Windows or for macOS. If you want to use EverWeb on both platforms, you can easily purchase a one time only Multi-Platform license.
If You Are Already Using EverWeb…
If you already use EverWeb on macOS and want to use it also on Microsoft for Windows, you can do so with ease:
If you are and EverWeb+Hosting user you can download and use EverWeb for Windows for Free.
If you are an EverWeb Standalone user you can purchase our One Time Multi Platform license for $24.95 USD. The license is available to purchase from your the Upgrade/Downgrade Options section of your EverWeb Client Area.
Multi Platform Compatibility
Your EverWeb website Project files are compatible between MS Windows and macOS. Generally, EverWeb will also work in exactly the same on both Windows and macOS platforms. Some differences in use will, of course, arise due to the differing nature of these two operating systems.
System Requirements
EverWeb for Windows is compatible with Microsoft Windows version 10 and 11.
If you want to use EverWeb on macOS we recommend using version 3.9.1 or higher which is compatible with macOS versions 10.13 (High Sierra) or higher.
For more information on EverWeb for Windows and EverWeb for macOS please check out our website or let us know in the Comments Section below.