April 25th, 2019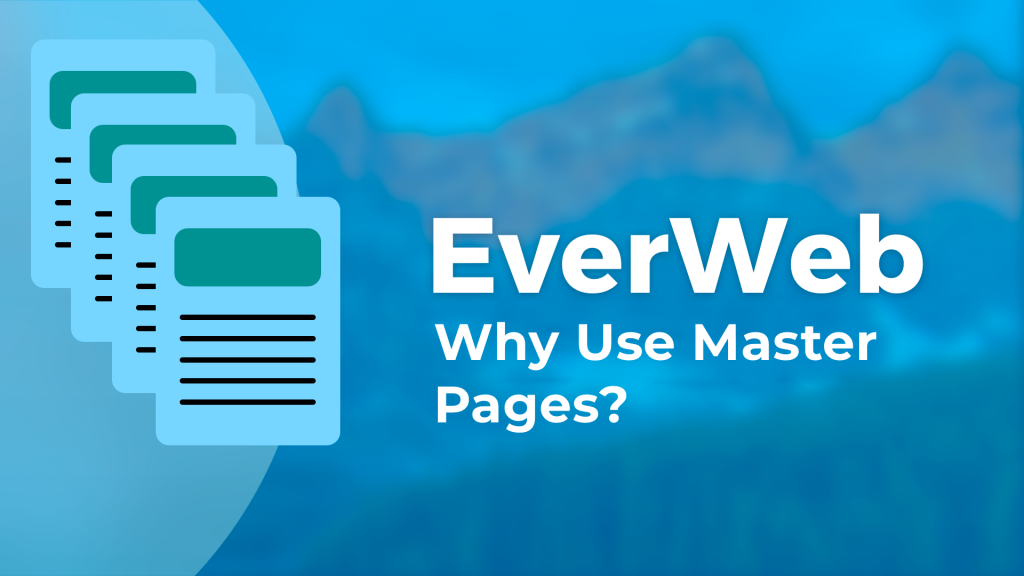 If you are not yet using EverWeb's Master Pages in your website, you could be missing out in many ways…
Master pages are perfect for setting standard page layout defaults for your website's pages such as content and footer height and page and browser background colors. Any settings and objects you add to a Master Page will be inherited by any regular page it is attached to. You can also include objects that you want to see on every page of your site such as company logos, navigation menus and copyright text.
If your website is not using EverWeb's Master Pages, there are many reasons why you're missing out…
Easy to Add: Master Pages are quick and easy to add, just click on the New Master Page button. If you cannot see the button, drag the splitter bar down to reveal the blue area. You can also add a Master Page by using the '+' button in the Page Settings tab or use the File, New Master Page menu option. Adding a Master Page works in the same way as adding a regular page to your site except that the Master Page is added to the blue Master Page area. When adding a Master Page to your site, you can base it on any Theme Template you want or create your own Master Page using the Blank, or Blank Responsive, Theme Template.
Easy to Use: You work on a Master Page in the Editor Window in the same as you do when working with a regular page. Adjust settings and add, edit and delete objects in exactly the same way.
Easier to Correct Mistakes and Errors: When you add a Master Page to a regular page, the master page objects can only be edited by editing the Master Page itself. Master Page objects are displayed on regular pages with a black page symbol in their top right hand corner. If a Master Page object needs to be moved on the page for example, just edit the Master Page and the change will automatically appear on any regular pages that the Master Page is attached to.
Saves Time: As a Master Page acts like a template, it makes setting up and customizing regular pages a lot quicker. Attaching a Master Page to a regular page saves you having to set up the page again and again. You will also save time maintaining and updating your site in the future. For example, if I want to change the page background color of my site at a later date, I just change the page background color in the Master Page and any regular page using the Master Page will automatically be updated with the change.
Better Website Design Consistency: You may have noticed some websites where objects that should be in the same place on each page seem to move slightly when you change pages That's because the objects have not been added to the exact same place on each page. Using a Master Page eliminates this problem as you only need to add such objects once to the Master page. These objects will then appear exactly in the same place on each regular page. Having a consistent website design looks great and adds to your site's credibility and professionalism.
Master Pages can be used in multiple scenarios: You can create Master Pages for different scenarios and purposes such as creating Master Pages for different groups of pages e.g. one Master Page for each department in a business. You can also use Master Pages in different page layouts e.g. in fixed width page layouts you could use one Master Page for desktop devices and one for mobile devices. You can even create a Master Page to give your blog a unique identity! The possibilities are almost endless!
Master Pages are a valuable tool for anyone building their own website, even if it is a relatively small site. Save time and effort both now and in the future maintenance of your site!
If you have any comments about this post, please let us know in the Comments Section below. We will get back to you as soon as possible.
Video Walkthrough…
You can also catch up with using Master Pages in our YouTube video walk through!
EverWeb on Social Media
You can also find EverWeb on the following social media platforms:
Twitter handle @ragesw