March 9th, 2017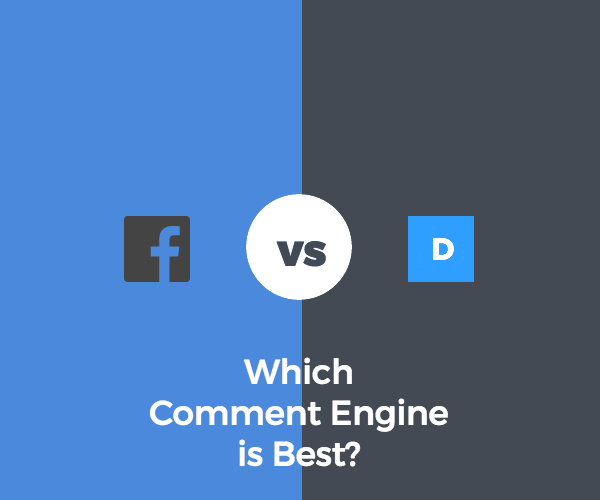 EverWeb's blogging feature has the option to include a comment engine so your visitors can add their own comments to your blog posts.  Typically, only users registered with the comment engine provider can add comments which are displayed in chronological order after the blog post itself. As the blog 'administer' you will usually be responsible for overseeing, or 'Moderating', the Comments Section.
Do You Need To Use A Comment Engine?
The first question you should ask yourself is 'Do I need to use a comment engine at all?' It's often a question that is overlooked as it is generally assumed that if you have a blog, you have a Comments Section. There are great reasons to use a comment engine: It helps engage your audience with what you are doing, it fosters debate which may help you develop your products and services and it tells your audience that your website is live and active! The downside, however, is that you have to administer the comments, answer questions and respond to any issues or complaints that may arise. Additionally, you also have to police the comments section for spam and for potential abuse. Moderating can be a stressful business.
So, there are pros and cons to having a comment engine for your site. If you are happy to go ahead, the next task is to decide which comment engine best suits your needs.
Selecting Your Comment Engine
EverWeb gives you the choice of Disqus or Facebook Comments. These are the two most popular comment engines out there although there are others. It is up to you to decide on which engine to use, The decision should be based mainly around the audience that you have, or want to attract, to your website and its blog.
Disqus and Facebook Comments essentially do the same thing and both have their strengths and weaknesses. Essentially there are a number of questions that will determine which Comment Engine is best for you.
Where is my target audience? If you have a great Facebook presence, FaceBook Comments may be better for you. If your  audience is largely non-Facebook users then Disqus may be better.
How do the Moderation features stack up? As administrator of the Comments Section, you will probably be the one to 'moderate' the comments that come in. Responding to comments may require timely action. Policing the comments may be important if your comments section gets spammed, or trolled or if abusive language is used. These tasks require management, so you will want your comment engine to have the tools you need, when you need to use them
User friendliness. Typically comment engines will ask you to register first before you can post your comments. Once registered, the user will typically use a 'handle' by which they will be known when commenting. The user will then need to log in to the comment section of your website to leave a comment. In all, it is important that your user's experience of logging in, commenting, replying, sharing and so on, are easy and quick to do. Make sure that the user experience matches your goals for your blog.
Ease of set up and management. Both Facebook Comments and Disqus have their own tools to set up and manage their comment engine. FaceBook does this through a 'Developer App ID' whilst Disqus uses a 'Shortname' handle, both of which are created when you first setup your account. The two approaches to set up and management of your commenting environment are different yet achieve the same result. It is worth while taking some time to explore both tools from a management perspective before choosing the one suits your needs best.
Ease of administration. As the Moderator of your blog, you will want administatration tasks to be as easy as possible. Check that the comment engine you intend to use does what you want in this respect e.g. Do you want to be notified when a comment is logged, do you want to vet comments before they 'go live' in your comments section (e.g. To filter out spam) etc.
Disqus and FaceBook Comments Compared
I noted earlier that the two comment engines have many features in common. However, there are some definite distinctions to be noted, which are outlined below. Remember that both products are often updated so this list is subject to change!
Disqus
Disqus has the following distinguishing features:
Discussions in real time
Login via Facebook, Twitter, Google, Yahoo! Microsoft Live and more!
Comments can be threaded, imported and exported
Comments are easy to edit
Discovery feature to help find other website content
Moderation of comments can be done via Email
Disqus is often favored for
Real time commenting and alerts and an
Easy to use interface
FaceBook Comments
Facebook has the following distinguishing features:
You can comment immediately if you are logged in to FaceBook
Login via either Facebook, Yahoo! or Microsoft Live
Comments can be threaded
Like and Reply options included
Free data analytics
Comments can be ordered by the number of Likes
Includes a well regarded anti-spam tool
FaceBook Commenets is often favored as it
Allows visitors to publish comments on their public Facebook Profile
When large numbers of website visitors already use Facebook
When you have chosen your comment engine, the next step is to create your FaceBook Developer App ID or Disqus Shortname. The best course of action at this stage is to refer to the EverWeb User Manual as this takes you through the process in detail.
Adding Your Comment Engine To Your EverWeb Blog
Once you have selected and set up your Comment Engine, add the FaceBook App ID or Disqus Shoretname to your EverWeb Blog.  To use the Comment Engine, just tick the 'Enable Comments' box in the Widget Settings of your blog 'posts' page.
When you publish your website, the Comments Section will be available for use. Registered users will be able to log in to the commenting engine and add their comments.
Blogging and user interaction can be great for your website and rewarding and fun for your users with the right comment engine and with proper 'Moderation'!
If you have a question or comment, please let us know in our own Comments Section below! Thanks!
EverWeb on Social Media
You can also find EverWeb on the following social media platforms:
Twitter handle @ragesw