July 10th, 2022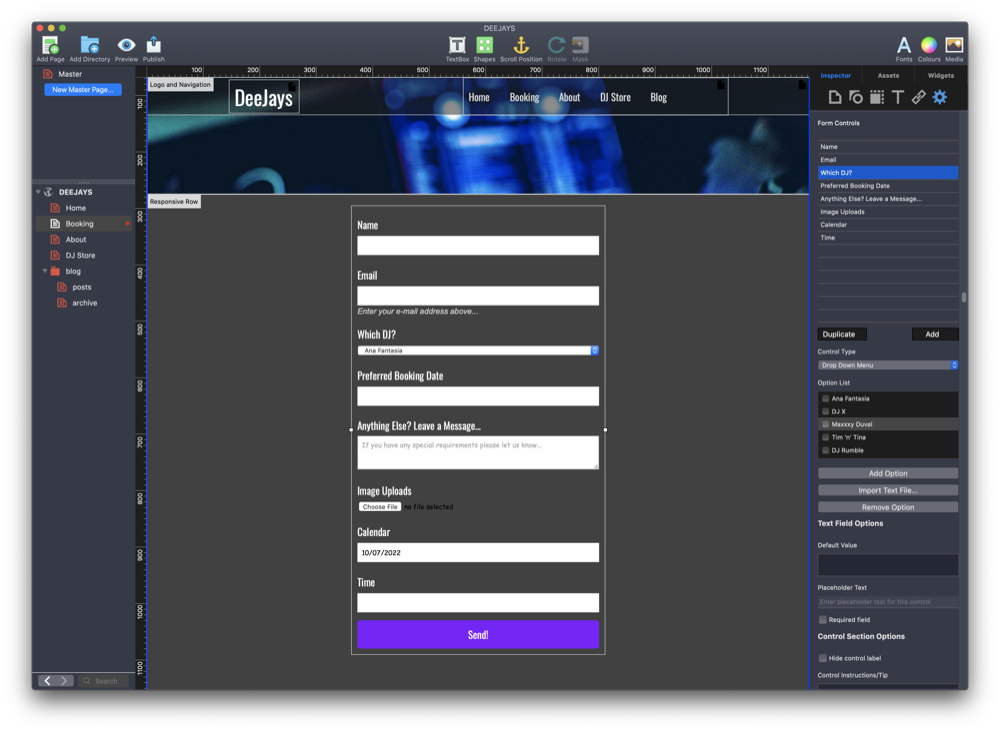 When EverWeb launched back in November 2013, it came with a number of 'widgets' which help to extend the reach of EverWeb without the need to modify EverWeb's core features and functionality in the process. Widgets were a familiar, but limited, feature of Apple's defunct iWeb website builder that EverWeb has capitalized and expanded upon since its inception.
The Original Contact Form Widget
The very first version of EverWeb included the Contact Form widget which provided similar features to those found in iWeb. The widget features five fields for visitors to fill in so is super simple and quick to use. In fact, the widget remains essentially unchanged since its launch in the current 3.7 version of EverWeb. The only real update has received has been to to make it a full width capable widget for use in responsive website design.
So, why has the widget not been developed further? The answer lies in its successor, the Contact Form Advanced Widget!
Introducing the Contact Forms Advanced Widget
The Contacts Form Advanced widget was introduced in EverWeb version 2.0 to give EverWeb users a widget that was highly flexible, customizable and secure. The original Contact Form widget is still provided for when your needs are very simple or for legacy usage.
Our recommendation is that, wherever possible, you use the Contact Forms Advanced widget. If you are still using the original Contact Form widget you may want to replace it with the Advanced version of the widget. There are three good reasons for doing so:
The newer widget is more secure against spam due to its security measures both internal to the widget and through the use of Google's reCAPTCHA tool if it is implemented in the form.
The Contact Form Advanced widget has gained a host of customizable features since its launch and its existing features are also often expanded, or improved, upon. We will be looking at the widget's main features of the widget later on.
You can expand the widget's capabilities with the Contact Forms Enhanced Addon, which is available to purchase from your EverWeb Client Area.
Security & Form Validation Features
The Contact Forms Advanced widget uses your SMTP details to provide a more secure way of making sure that your form does not get hijacked by spammers or malware bots taking over your form. Although entering your SMTP details may be time consuming, it is a one off operation that will help keep your form secure. Instructions are provided on how to enter your SMTP details for both EverWeb+Hosting customers and for those of you who use your own hosting provider.
The other security option the form uses is Google's reCAPTCHA anti-spam tool. All you need to do sign up for the the service and generate the Site and Security Keys for the site you want to use reCAPTCHA with. When using the form, your visitor will need to verify that they are human by clicking on photos of objects presented to them.
One of the other important features of a contact form is its validation and confirmation for the visitor that the form has been sent. The widget includes validation (e.g. when using required fields in the form) and allows you to provide a customized Email message to the person submitting the form once the 'Send' button has been clicked upon.
Using Form Controls
The cornerstone feature of the Contact Form Advanced widget is its Form Controls. A Form Control is a user defined field that can usually be fully customized e.g. you could have a text field, an email field, a header field or a drop down menu field. When you select the Form Control you want to use, you will see the options that are appropriate for the control within the Widget Settings. There are seventeen Form Control types to choose from. This means that you can design your contact form confident that there will always be the right Form Control available to use in it. Some Form Controls, such as the Radio Button, you can even import your options list from an external text file if you want.
Form Controls can be designated as 'required' so that anyone using the form must complete the required field before they can send the form.
To help guide your visitors on how to complete fields in the form, the widget has two options: Placeholder Text lets you add help text within the field itself. When a visitor starts to type in the field, this help text is then replaced by the visitor's input. The second help option is to use the Control Instruction/Tip field which can be used to display help text under the field in question.
Formatting Options
The Contact Form Advanced widget gives you the control and finesse that you need to customize the look of your contact form so that it will blend in perfectly with your website. Many of the Form Controls have their own font options so you can mix and match as you need.
Formatting options can also be applied to the contact form's Send button as you can use the text you want, in the style you want, or you can opt to use a button image, which like a hyperlink has normal, mouse down and mouse over options. As a third alternative you can also use EverWeb's Styled Button to design your own button, a feature which can also be found in other EverWeb widgets.
The EverWeb Contact Forms Enhanced Addon
The EverWeb Contact Forms Enhanced Addon was introduced in EverWeb 3.0 taking the ability of the Contact Form Advanced widget further. If you purchase the add-on, when visitors use your contact form, the data they input into the contact form is stored by EverWeb in a dedicated secure area on our servers so it can be used later. This is great if you want to build up a mailing list, or you have specific contact forms for different purposes. You can analyse the data returned for each of your contact forms and download it for use in a spreadsheet if desired.
The Contact Forms Enhanced Addon also allow your visitors to upload files to a dedicated secure area in your EverWeb Client Area so you can then download them at your convenience later.
EverWeb's Contact Form Advanced widget is an incredibly powerful contact form tool and when used with the Contact Forms Enhanced Addon, takes managing and analysing your contact form data to the next level.
If you have any questions about the Contact Form Advanced widget, Contact Forms Enhanced Addon or EverWeb itself, please let us know in the Comments Section below.