Thursday, August 6th, 2020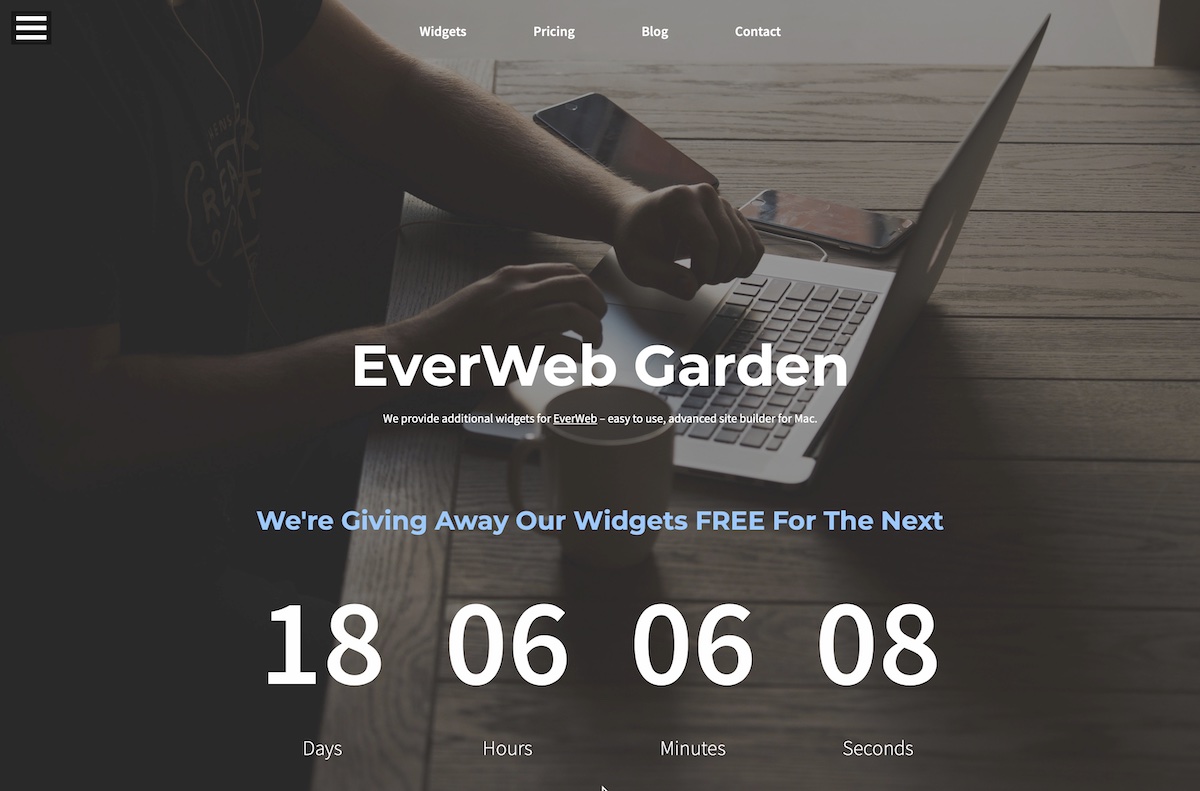 EverWeb's third party provider community continues to expand with the recent arrival of EverWeb Garden. This new third party provides additional widgets to supplement those that are built in to EverWeb already.
At launch, EverWeb Garden has about 60 widgets to choose from with more to follow. At the moment these widgets are free as they are in a limited time beta test period.
A Broad Choice of Widgets
EverWeb Garden not only has a large number of widgets ready at launch, but the widgets themselves are great for enhancing your website. The widgets have a modern design approach and are highly customizable to suit your needs and match the look and feel of your website. Below is a short summary of some of the categories and widgets that are available.
Media Themed Widgets
There are a host of media themed widgets available such as the Soundloud widget . This widget lets you copy a song's URL from SoundCloud with the SoundCloud widget, and add options such as download, share and buy buttons as well as adding the song's artwork.
The EventBrite widget allows you to sell tickets for events and lets your customers purchase from within your site.
Other media themed widgets include Video, YouTube and Flickr Galleries and customizable Plyr audio, video and Vimeo player widgets.
Widgets That Work With Data
If you have ever wanted a table, list, pricing grid or piechart in your web page, EverWeb Garden has you covered with widgets to meet these needs. There's even a calendar widget too. Again these widgets offer easy and full customizations.
New Style Navigation and Notification Widgets
There are plenty of navigation themed widgets to suit almost all website needs including a fly-out menu, Hidden menu and fading navigation menus. If you want to catch your visitors attention, there are also popup notification widgets available.
Enhanced Design Widgets
If you want your site to really shine, there are new widgets that just do that by displaying images in cool new ways, a variety of sliders and there's a tabs widget, tip cards and a lonely card widget to add extra pizzaz to your pages!
E-Commerce Widgets
If you have a PayPal account you have two E-Store widgets to enhance your product listings.

More About EverWeb Garden
EverWeb Garden at launch will feature different yearly Standard, Advanced and Pro plans. The Pro plan, for example, will include custom widget development, standard and premium widgets as well as an 'early widget access' and priority support.
If you download EverWeb Garden widgets during the beta test period, or purchase them directly once they are out of beta, remember that for any support on these widgets, please contact EverWeb Gardens directly.
So, sign up now for a wealth of free widgets before the beta test period ends, the clock is ticking!

EverWeb on Social Media
You can also find EverWeb on the following social media platforms: